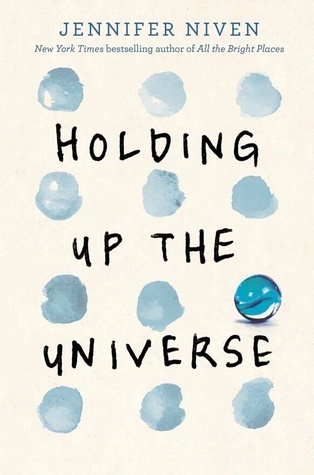 Everyone thinks they know Libby Strout, the girl once dubbed "America's Fattest Teen." But no one's taken the time to look past her weight to get to know who she really is. Following her mom's death, she's been picking up the pieces in the privacy of her home, dealing with her heartbroken father and her own grief. Now, Libby's ready: for high school, for new friends, for love, and for
every possibility life has to offer. In that moment, I know the part I want to play here at MVB High. I want to be the girl who can do anything.
Everyone thinks they know Jack Masselin, too. Yes, he's got swagger, but he's also mastered the impossible art of giving people what they want, of fitting in. What no one knows is that Jack has a newly acquired secret: he can't recognize faces. Even his own brothers are strangers to him. He's the guy who can re-engineer and rebuild anything, but he can't understand what's going on with the inner workings of his brain. So he tells himself to play it cool:
Be charming. Be hilarious. Don't get too close to anyone.
Until he meets Libby. When the two get tangled up in a cruel high school game—which lands them in group counseling and community service—Libby and Jack are both pissed, and then surprised. Because the more time they spend together, the less alone they feel.
Because sometimes when you meet someone, it changes the world, theirs and yours.
My Rating: 5/5
Given how much I enjoyed All the Bright Places, I picked up this book before even reading the synopsis.
The book has duel narration shared between two outcasts.
Jack who can't recognise faces (even his family) and keeps this fact secret from everyone.
I found his condition really interesting and it was obvious how much research was done on it to convey it so strongly.
The other narrator was Libby. While Jack has become good at hiding his problems, Libby cannot as she carries it around with her as Libby turned to food when her mother died and subsequently put on so much weight she was bedridden.
Whilst I loved Jack and Libby's individual stories and struggles I didn't care much for them as a couple. I thought they were both perhaps too strong for a split narrated book.
There were a lot of pop culture references throughout which is not something that I usually like but I found that I liked the
Supernatural
references throughout.
Jack's condition was interesting but I never really understood why he didn't tell anyone about it. I know he didn't exactly have the best relationship with his father but his mother seemed approachable.
Overall I really enjoyed this book, just not as much as All the Bright Places.